Sort Later: RISD GD Senior Show
Identity Design, Exhibition Design | 2023
Design is a form of sorting. The designer takes disparate elements and strings them together; remixed and recombined. Charged with the unending task of forging new connections, the designer tediously aligns type to page, gathers content for books, and compiles assets for websites. Sorting becomes a way to retain control. It implies a tangible end to the process. So often, each design decision leads to some envisioned 'end.' Sort Later is about letting go of ideas of finality and instead celebrating the work in progress, the liminal, and the unanswered. The exhibition is a celebration of excess, community, and growth.
*
Here
to visit the website
*Command + P on the website to generate your own poster
Exhibition on display from February 23-28 at Woods Gerry Gallery in Providence, RI.



Credit: Max Beidler, Iris Cho, Matthew Cuschieri, Sharlene Deng, Jingyu Feng, Monet Fukawa, Anita Huang, Mio Kosaka, Nate Krohn, Truman Lesak, Amy Lim, Valia Liu, Wayne Luan, Nistha Nanda, Emma Noel, Maxton O'Connor, Jessica Perkins, Anmol Govinda Rao, Sofia Santana, Yasemin Sarihan, Henry Spuria, Iris Xie, Ashley Yae, Karen Zhou, Alex Zhu.

Animation: Truman Lesak
Identity Design: Mattew Cuschieri, Sharlene Deng
Publication Design: Emma Noel, Mizuki Hanada
Documentation: Emma Noel, Mizuki Hanada, Sharlene Deng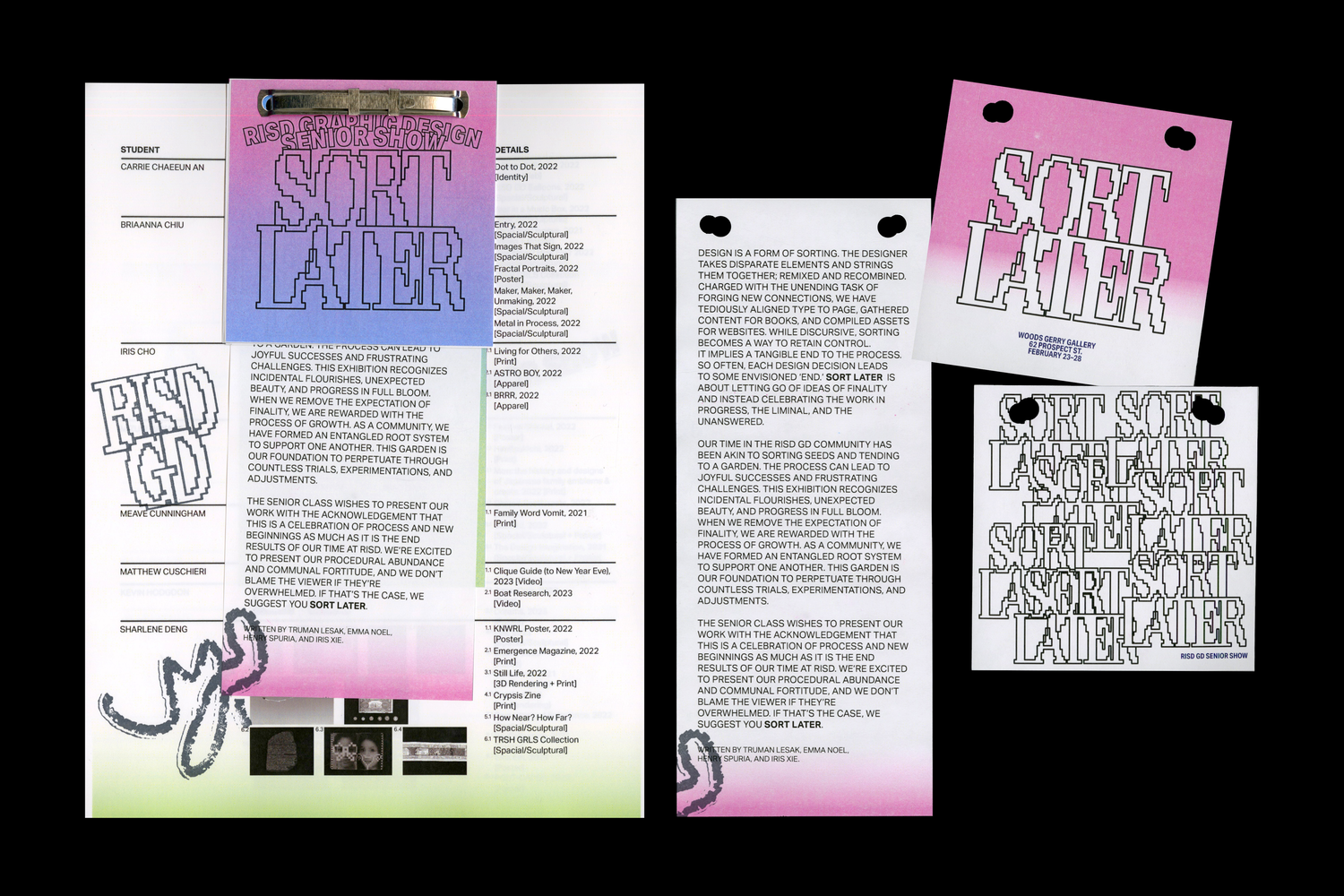 Sanctuary
Identity Design | 2022
The objective of this project is to express the content primarily with type and audio, pushing typographic relationships while considering the potential of form. By exploiting the poster form as a stage for performance, we become more conscious of how type is anchored and oriented to the surface of the poster.
The song I chose to work with is called
Sanctuary
by Joji, part of his
Nectar
album. In the track, the music features lo-fi ballad sounds with a mix of R&B. Inspired by
Sanctuary
's music video, this dynamic typographic poster offers viewers an euphoric and explosive experience as if they are in space.
Ducati Model Series
Experimental | 2022
A poster is a transformative window through which the viewer can experience almost anything—a place, an idea, or a point of view—in a new way.
The Ducati Model series investigate the role of the poster frame, testing the potential to reshape a poster's meaning. This serie explores the dynamics of the complex of two-dimensional composition.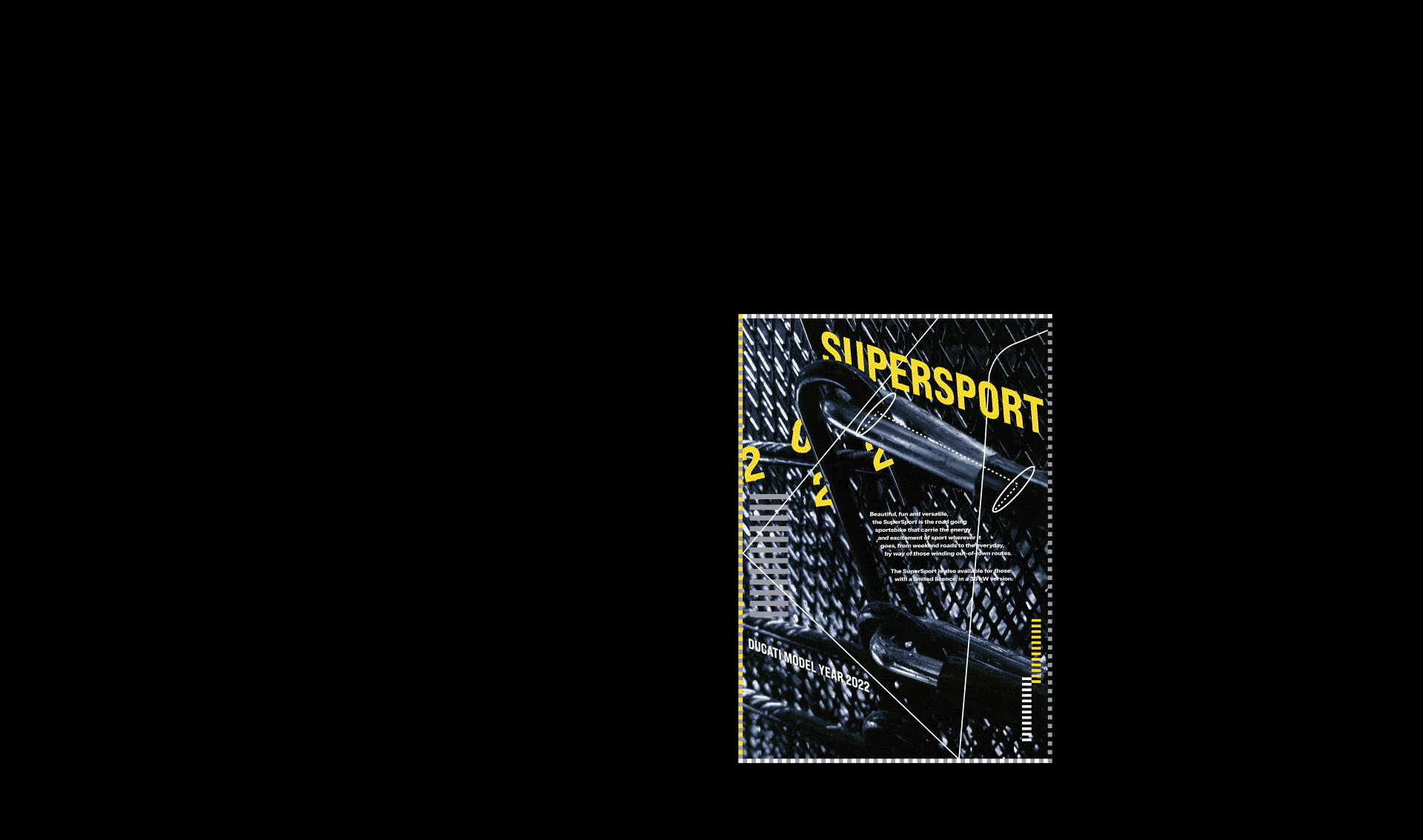 MillerKnoll
Identity Design | 2022
Knoll is a constellation of design-driven brands and people, working together with clients to create inspired modern interiors. Since 1938, the company has been thinking about how people interact with their environments and how their environments impact what they do. While collaborating with the Knoll Workplace Research Library, the project aims to create a sub-branding system for Knoll.
The logo design is inspired by one of the most important concepts of Knoll—a cycle of innovation. Each new chair design is propelled by the innovations of its predecessors. The changing logo form echoes the silhouettes of Knoll's past chair designs, embracing the company's growth, history, and legacy.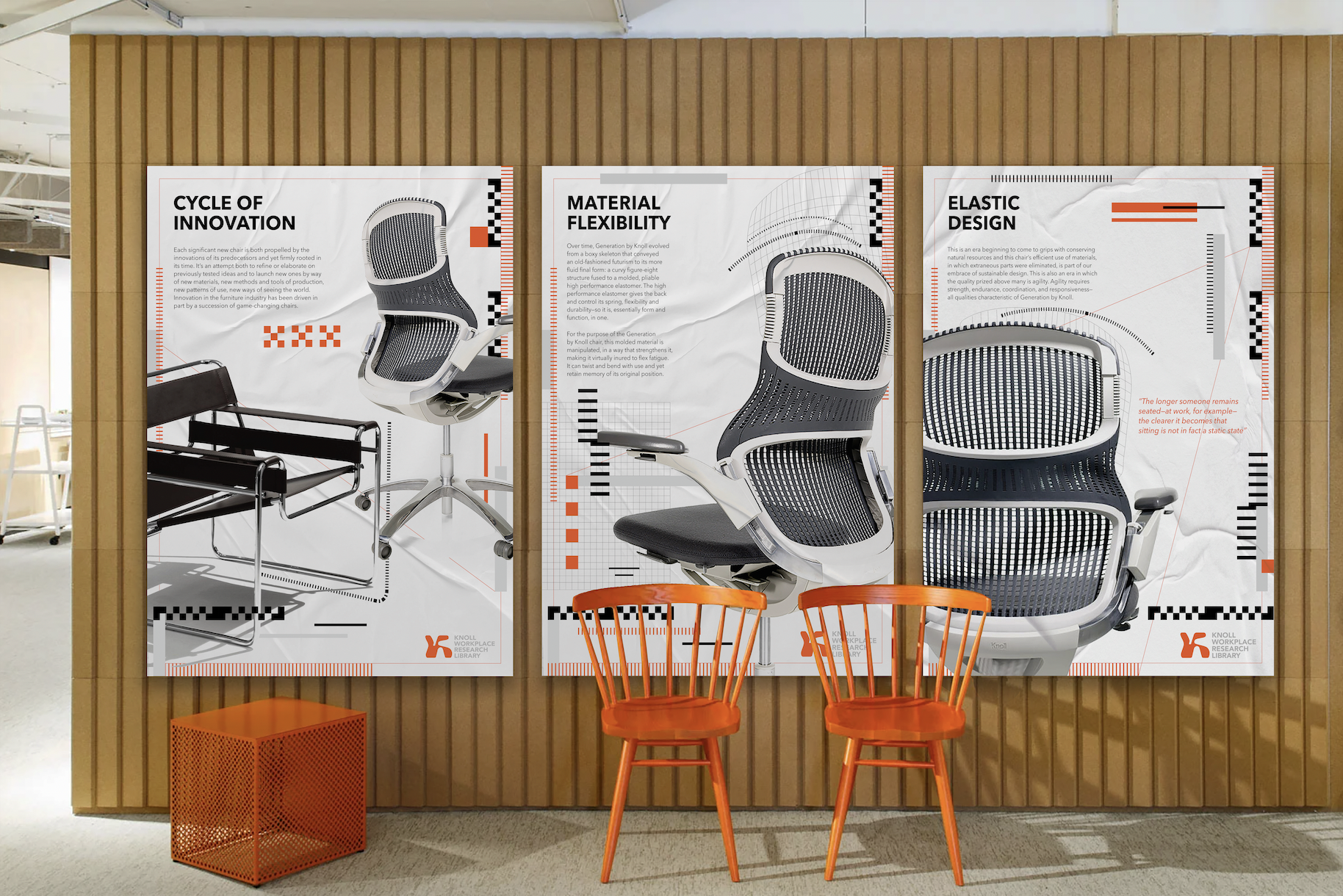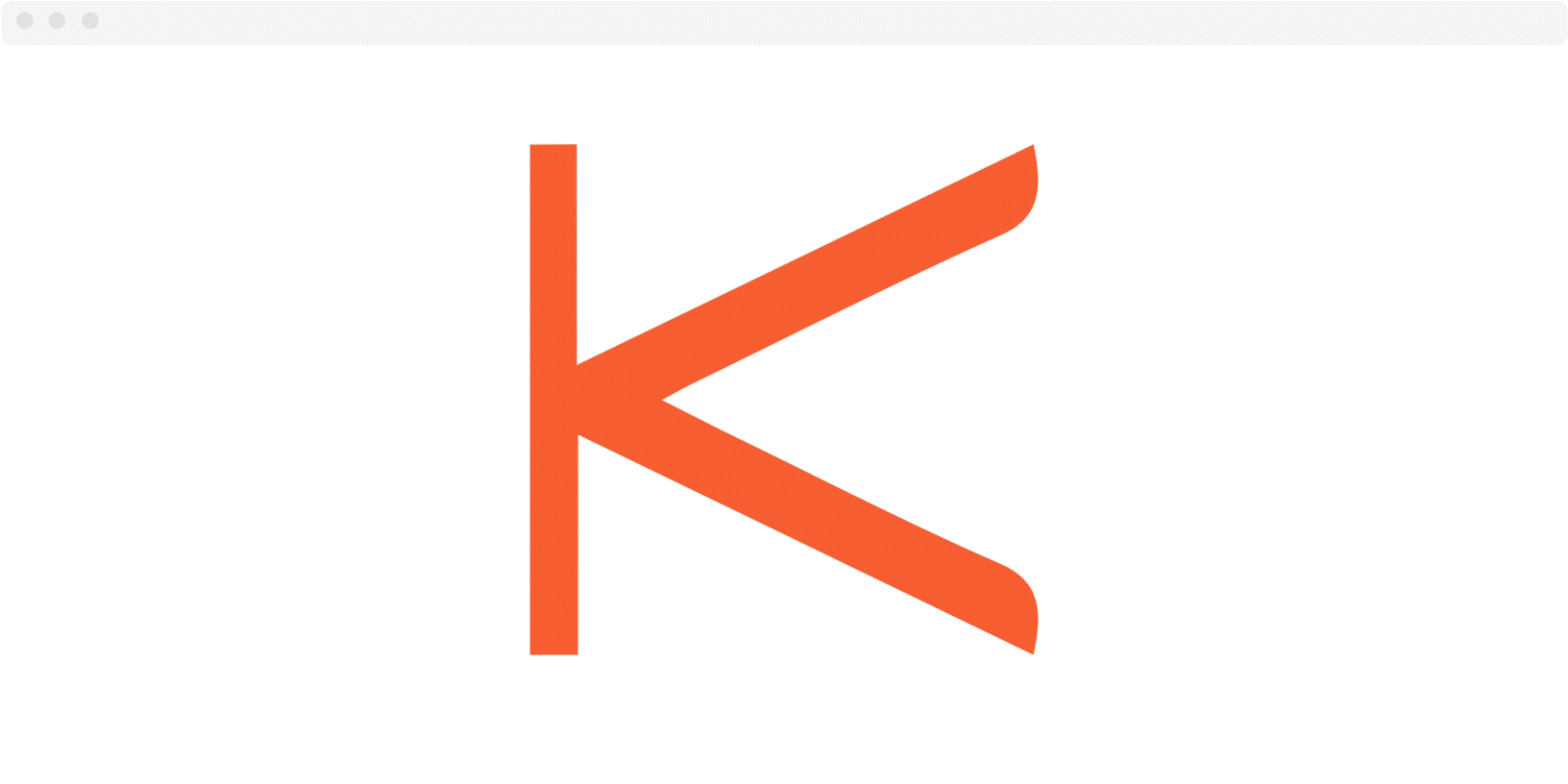 Gérad Uféras
Editorial Design | 2022
Gérard Uféras: The Fabric of Dreams
is a photographic book containing selected works from the renowned French photographer, Gérard Uféras. With a focus on high fashion, couture, and life backstage, these black and white photographs are jarring in their graphic nature and beauty.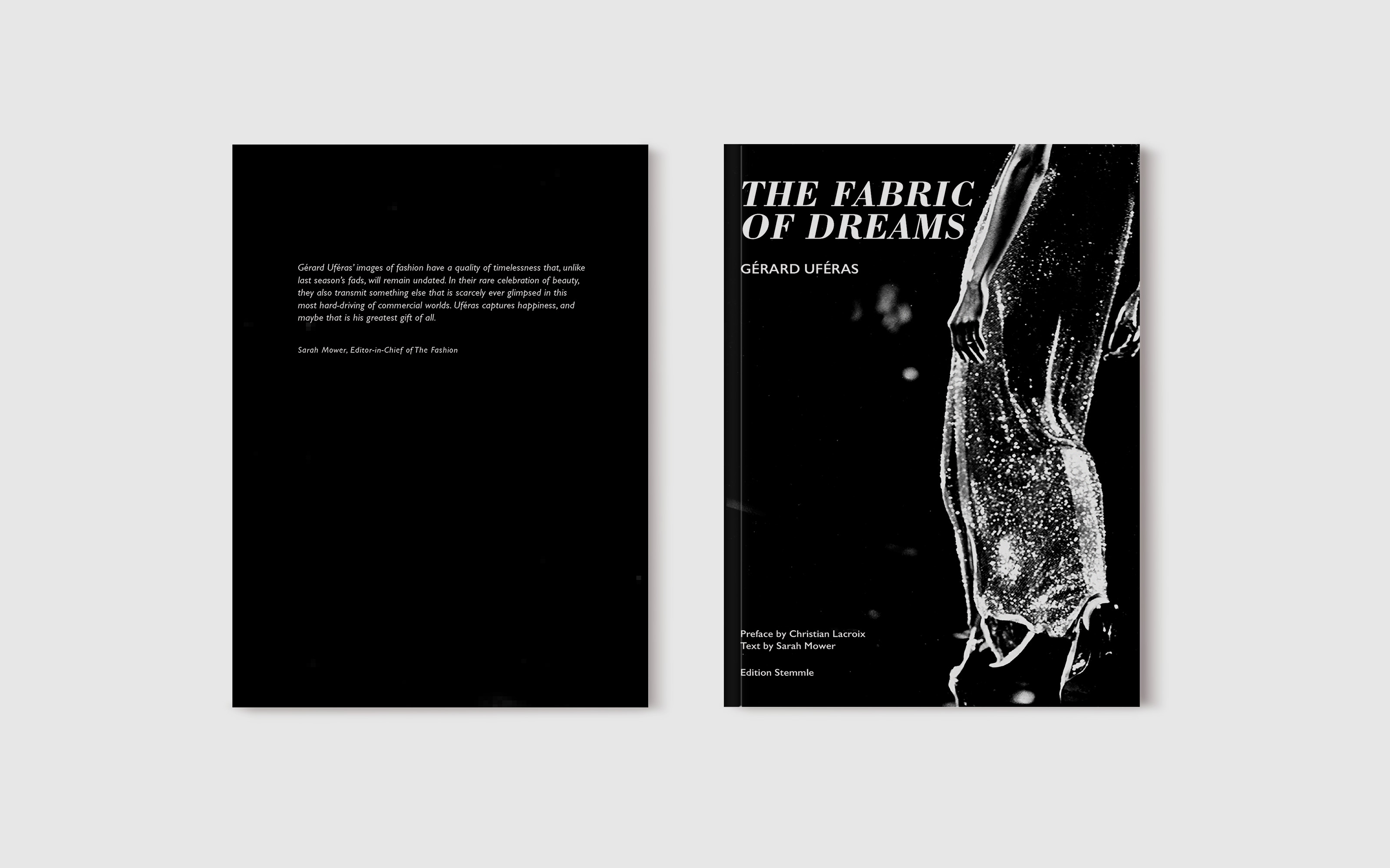 Process Image
The first step of designing this book was to pair up the photos according to their axes, narrative, visual texture, values, and balance.